Accuracy is essential while determining antenna layout. At SUNYIELD, we are committed to provide cutting-edge solutions that enable our clients to get accurate and trustworthy outcomes. The SCR-5000 Cylindrical Measurement System, our flagship product, uses cutting-edge technology to completely transform how antenna pattern measurements are done. We have developed a ground-breaking method that provides extremely accurate measurements while maximizing available space and lowering costs by directly integrating spherical multi-probe technology onto the cylinder surface. Data collection is made simple and effective with the help of our electronic solid-state switch and multi-probe calibration, enabling you to get in-depth understanding of the antenna's 3D pattern.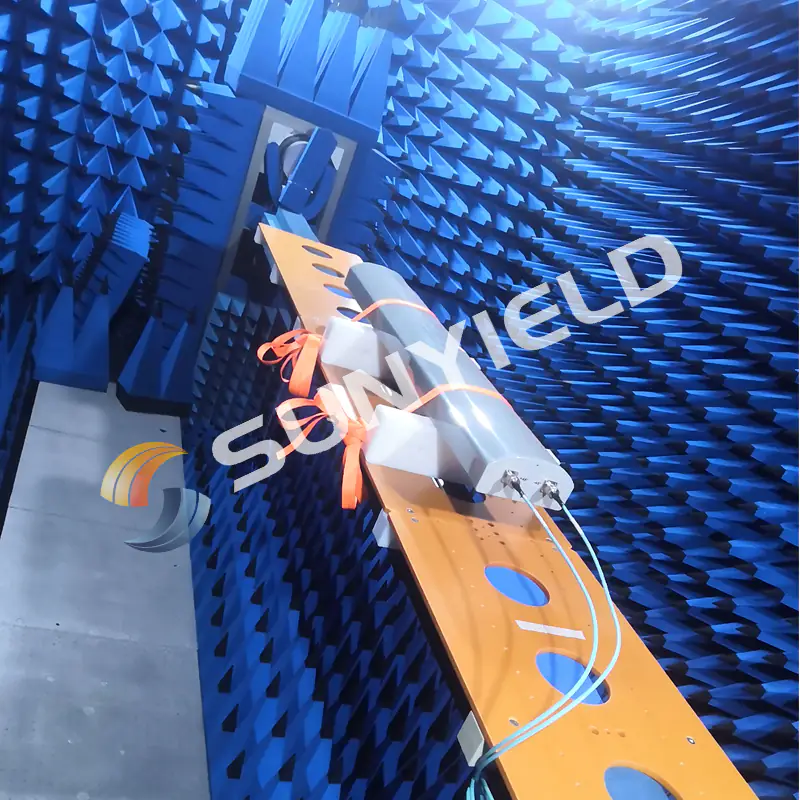 Efficiency and Cost-Effectiveness in Antenna Pattern Testing with the SCR-5000 Cylindrical Measurement System
At SUNYIELD, we understand the importance of efficiency and cost-effectiveness in antenna pattern testing. With the SCR-5000 system, we have developed features that streamline the testing process, saving you time and resources. Our system allows for convenient horizontal mounting, enabling fast and efficient testing. We prioritize space-saving design without compromising measurement accuracy, ensuring that you can maximize your workspace while obtaining precise results. Additionally, our SCR-5000 system incorporates Z-axis over-sampling technology, which facilitates the measurement of larger antennas with unparalleled precision.
Key Features and Parameters of the SCR-5000 Cylindrical Measurement System
The SCR-5000 Cylindrical Measurement System is equipped with key features and parameters to cater to the diverse needs of our customers. With 50 probes, our system enables comprehensive data collection, ensuring that you capture all the necessary information for in-depth analysis. The 5-meter cylinder length provides ample space to accommodate various Device Under Test (DUT) sizes, allowing flexibility in your testing requirements. With a maximum weight capacity of 100kg, our system offers versatility and reliability in testing a wide range of antenna types. Operating within the 400-6000MHz frequency band, our SCR-5000 system covers diverse applications in wireless communication. Whether you need to measure 2D or 3D antenna patterns, conduct S-parameter analysis, evaluate standing wave characteristics, or assess isolation levels, our system provides a comprehensive solution.
Conclusion
SUNYIELD's SCR-5000 Cylindrical Measurement System is the ultimate solution for streamlining antenna pattern measurement. Our company is dedicated to delivering cutting-edge products and services that meet the unique requirements of our customers. With our advanced technology, you can achieve accurate and reliable measurements while optimizing space and reducing costs. The efficiency and cost-effectiveness of our system, combined with its key features and parameters, make it a superior choice for antenna pattern testing. Join our satisfied customers and experience the benefits of the SCR-5000 system in optimizing your antenna performance. Contact us today to learn more about our products and how our solutions can enhance your antenna pattern measurement processes.