The China Academy of Information and Communications (China Academy of Telecommunications, abbreviated as China Academy of Information and Communications), formerly known as the Posts and Telecommunications Science Research Institute of the Ministry of Posts and Telecommunications (founded in 1957), was officially established in 1994 and is now a research institution directly under the Ministry of Industry and Information Technology. It is the most important supporting unit in the field of information and communication (ICT) and the main supporting unit in the comprehensive policy field of the Ministry of Industry and Information Technology
The radar radome testing system built by Sunyield passed customer acceptance in January 2020. The main test object of this test plan is the impact of meteorological radome products on radar performance. The system is equipped with corresponding RF transceiver system, radome installation tooling and radar mechanical scanning bracket, probe installation bracket and testing environment. The system can test indicators such as radome transmittance.
The whole vehicle measurement system SY-IWM is a solution designed by Sunyield for indoor full size, full frequency band automotive antenna measurement in automotive manufacturing, automotive antenna manufacturing, and automotive testing institutions. The vehicle testing system can provide testing solutions such as single probe, multi probe, single probe, and multi probe, while ensuring the testing speed of commonly used frequency bands and expanding the testing frequency band.
SY-IWM is suitable for vehicle antenna testing, vehicle radiation performance testing, and supports DVB/Wireless Communication/GNSS. It can also support millimeter wave testing through hardware equipment selection, such as vehicle radar testing. The 360 ° rotation of the car mounted turntable can achieve a comprehensive detection of the radiation performance of the upper hemisphere of the car related antenna. Upgradable car turntable lifting control function, achieving precise adjustment of car position.
| | |
| --- | --- |
| Model | SY-IWM |
| External dimensions(L×W×H) | 75*35*35m |
| Frequency bands | 400MHz-6GHz |
| Max. Dimension of DUT | 6m |
| Turntable motion accuracy | 0.1° |
| Main testing functions | Test automation and analysis display of vehicle antenna. Mainly focusing on passive performance testing, including but not limited to 3D pattern, gain, efficiency, half power lobe width, cross polarization discrimination, phase center, upper hemisphere efficiency, front to back ratio, etc. In the future, the active testing function can be upgraded according to customer needs and agreements |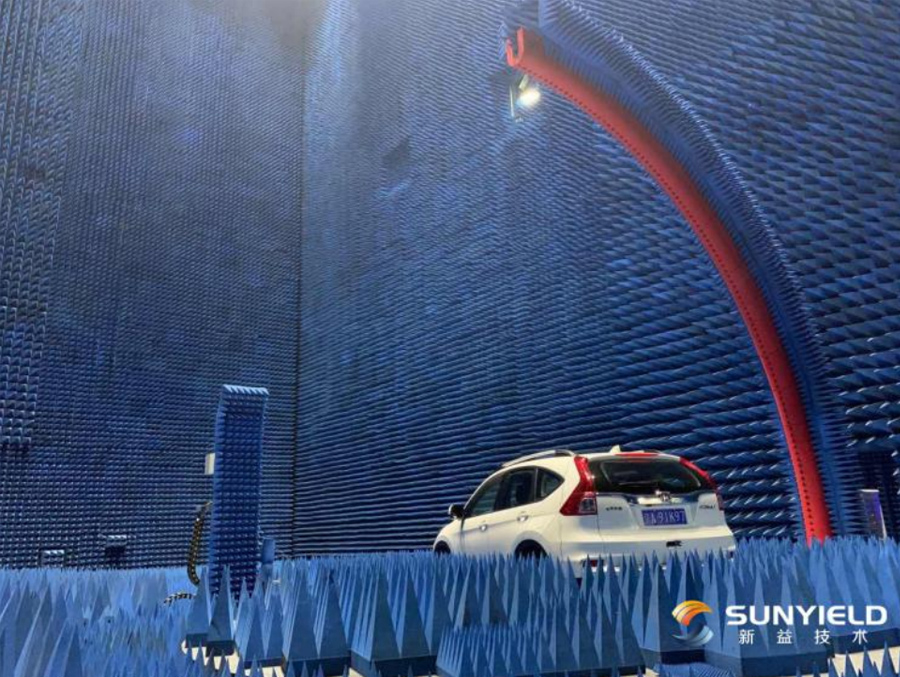 Physical image of SY-IWM